Pigmentation Treatment
As we get older, pigmentation (also referred to as age spots) tends to appear on our skin. Pigmentation (or hyperpigmentation) is patches of skin that are darker in colour than our natural skin tone, caused by increased melanin.
The most common areas for pigmentation to develop is on the face, neck, décolletage, (neckline) shoulders and hands. Regardless of the cause, pigmented lesions can be an aesthetic concern for many people.
What causes pigmentation?
Pigmentation develops as a result of exposure to harmful UVA rays which penetrate deep into the skin. Typically, the pigmentation does not tend to appear on the surface of the skin until a number of years later and, in some cases, as long as 20 years after the initial damage.
In some cases, the onset of pigmentation can come about as a result of hormonal changes from taking the contraceptive pill or during pregnancy.
Please feel free to take a look at these infographics for more information on pigmentation and sun damage. 
---
What treatment options do we offer?
Pigmentation and age spots can be treated in a number of ways at the DrBK Clinic, including with topical creams, HydraFacials & laser treatments.
We offer a range of skincare products, including the ZO Skin Health range. Within this skincare range, you are able to use specific 'boosters' to target specific skin issues (such as pigmentation). When you come for a free skin analysis, our skin technician will be able to advise you on the best skincare regime for your skin's needs.
---
We are able to use specific skincare boosters (as described above) in conjunction with the HydraFacial treatment to optimise results. This is a particularly favourable treatment if you are looking for a fresh and rejuvenated appearance, due to the HydraFacial 6 step process (learn more).
The Harmony AFT is an advanced IPL (intense pulsed light) therapy. It is an extremely effective treatment to lighten blemishes (and in many cases, to eliminate them completely).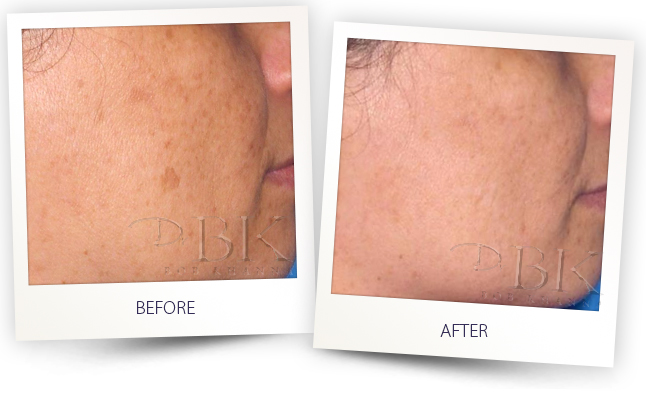 How does the laser treatment work?
The melanin in the pigmented areas of skin absorbs the light, stimulating cell renewal from deep within the skin. The heat from the light destroys the pigmented cells on the outer epidermis.
Another characteristic of ageing skin is loss of volume and elasticity. One additional benefit of this treatment is that it helps to stimulate the production of collagen and elastin. This greatly improves the overall appearance of the skin.
---
When will I see results?
In most cases, skin from the treated area will darken and flake off between 7-14 days, revealing lighter, brighter skin underneath.
The most noticeable results will be seen after a month. You may see a noticeable change in the appearance of your pigmentation after just one session, although 3-6 treatments might be necessary in order to fade the pigmentation completely.
For further information about this treatment or to book your complimentary consultation and patch test, call us today.