Welcome To Our Clinic
At the Dr BK Clinic we aim to provide you with the highest imaginable standards of care from our highly skilled team. Led by Dr Khanna who has been practicing dentistry for over 25 years and is one of the world's most eminent and respected Facial Aesthetics Practitioners.
Alternatively you can call us on 0118 960 6930
*FaceTime Consultations available
WE'RE BACK OPEN!
We're now offering limited appointments for dental and medical aesthetic treatments. Please contact us to enquire about availability.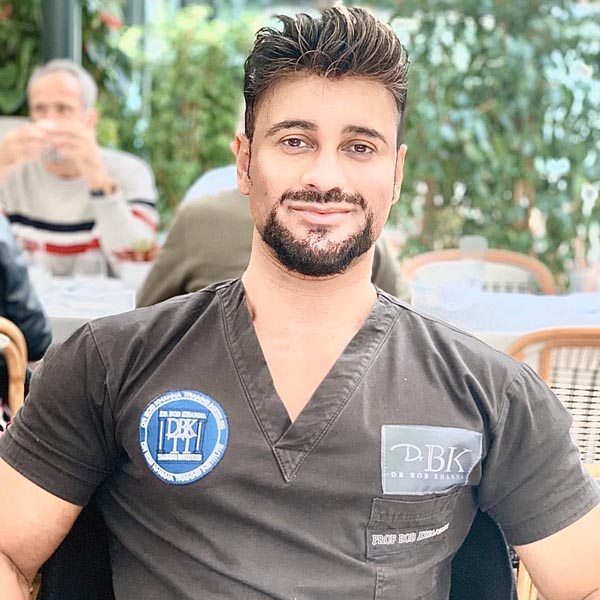 Dr Bob Khanna
Dr Khanna graduated from the University of Cardiff in 1993. He subsequently spent four years as an associate in general practice before opening his own Clinic in Ascot in 1997. Dr Khanna has continued to work in private practice and has developed an interest in Implantology and Cosmetic Dentistry.
In recognition of his devotion to his patients and outstanding patient care, Dr Khanna was awarded the prestigious Private Dentist of the Year award in 2009.
Following this achievement, Dr Khanna opened the DrBK clinic here in Reading offering his patients the very best dental care in the most relaxing of environments.
Testimonials
"I spent years not being able to smile as I hated my teeth, I was told many years ago that it would be impossible to straighten them, this left me with no confidence… Then I was told to visit Dr Bob Khanna… Today I feel great about myself, I have learned to smile again & I owe this to Dr Bob & his wonderful team. Many many thanks Dr Khanna for the work you have done, I will remain a loyal customer to you in the future." - Annie
"I could not be happier with the results Prof Bob Khanna has given me, from the very start the staff at Dr BK clinic were very informative and helpful. My nose now looks as it did before I damaged it, Prof Bob Khanna listened to my exact needs and as to what I wanted to achieve, and this shows in the way my nose now looks, I will definitely continue to come back to the clinic for future treatment…" - Jason
"If you want a comprehensive, safe, quick and satisfactory treatment for your face just visit dr bob Khanna. I got my tear troughs, cheeks & non-surgical facelift done yesterday, it was pain free, took less than 20 minutes, huge transformation in a very natural way immediately and now I can't be happier… Would never get safer hands than Dr Bob's. He is a magician, love you for making me love my mirror again" - Rand
"I had been diagnosed with bruxism by my dentist and had been wearing a plastic mouthpiece every night for over five years. I read about the BK Clinic in a national newspaper and made an appointment… The team were very warm, friendly and put me at ease. Professor Khanna diagnosed my problem within minutes… Within 2 weeks I was pain-free, sleeping better and my ugly mouthpiece was ditched… I would not hesitate in recommending the DrBK Clinic, Professor Khanna is extremely knowledgeable and passionate about what he does and I only wish I had discovered his services sooner." - Sarah
"Your laser hair removal is the best treatment ever, it has been so effective and I never have to worry again about waxing, I was so grateful to find it was also not painful compared to other laser treatments I have had in the past. It felt like a warm massage. Thank you." - Cassie
"This is the first time in my life I felt "safe" in a dentist. The building was stunning, everything was clean and felt less like a dentist and more like a spa and honestly Dr Khanna was so supportive towards me! 100% recommend especially if you are as afraid as me!" - Laura
Professor Bob And his wonderful caring team is the only clinic to go. I am always reassured and always feel welcome. I feel I am in the magic hands of Professor Bob. Pain free fabulous results. He simply loves his profession loves people and cares. What more an you ask for. Professor Bob achieves his work of art." - Renee
"I couldn't fault my experience, Prof Bob Khanna and the staff at the clinic were friendly and professional at all times. I would recommend visiting the clinic as you will be in the best hands. 10/10 for service and results." - Natasha
"Fantastic place, well looked after from the moment you walk through the door. I could not be any happier with my results there are amazing, wouldn't recommend anywhere else." - Jemma