Skin Tightening
Here at DrBK, we offer Skin Tightening treatment using Alma Laser's Soprano NIR Skin Tightening machine.
This is an in-motion approach to laser treatment and is effective treatment for improving skin laxity, without surgery or any down time.
The procedure uses a safe infrared light, to heat the water content in the tissue, deep below the skin's surface. The heat stimulates fibroblasts which repair cells in your skin to produce collagen, offering long term results. Treatments with the Soprano Skin Tightening system are quick and do not require anaesthesia or a prolonged recovery time. Patients can resume their normal activities immediately. Best of all, Soprano Skin Tightening provides steady improvement with excellent, long-term skin tightening results.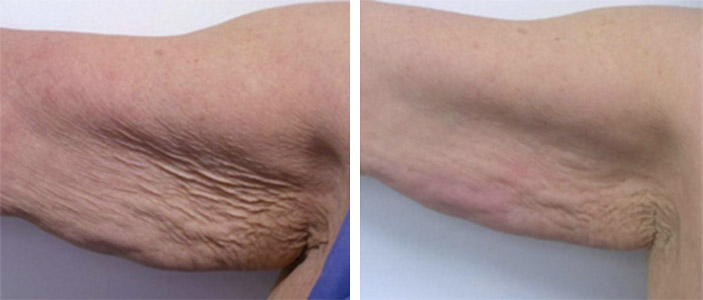 Where can we treat?
The Skin Tightening machine can be used near enough anywhere on the body, including: the buttocks, backs and insides of the legs, abdomen, upper arms and face. Our most popular area to be treated, is the face. It is a wonderful treatment to tighten jowls, which have suffered the perils of gravity.
What does the treatment feel like?
Prior to the treatment, protective eyewear will be applied and a facial cleanse will be performed, if this is the area to be treated. A generous layer of oil will be applied to the treatment area. After this the Skin Tightening hand piece is passed over the skin in a light, sweeping motion.
It is to be expected that you will feel heat, as the infrared energy is delivered to the deeper layers of the skin. Our cooling hand piece, which is in constant contact with the skin, ensures that treatment is comfortable and painless.
Is the treatment safe?
Yes very safe, through a series of Soprano skin tightening treatments we can safely restore the tone and tautness of your skin with little or no down time.
Who can have this treatment done?
Weight fluctuations, genetics and the natural ageing process can cause skin to lose elasticity over time. Soprano XL Near-Infrared (NIR) Skin Tightening uses a light-based solution to heat up the deeper layers of your skin and help tighten up skin.
How will I look after treatment?
Immediately after treatment, your skin is likely to look slightly irritated/flushed. This generally subsides within a few hours, but in some cases can remain for as long as 24 hours. We advise that you avoid heat treatments and refrain from applying makeup (if the face has been treated) for 24 hours post-treatment.
The beauty of this treatment is that there is next to no recovery time, meaning you can resume normal activity more or less right away.
Above is a great example of what we can achieve using the Skin Tightening machine. Call us today if you want to experience similar results for yourself, on 0118 960 6930 and book in your complimentary consultation!