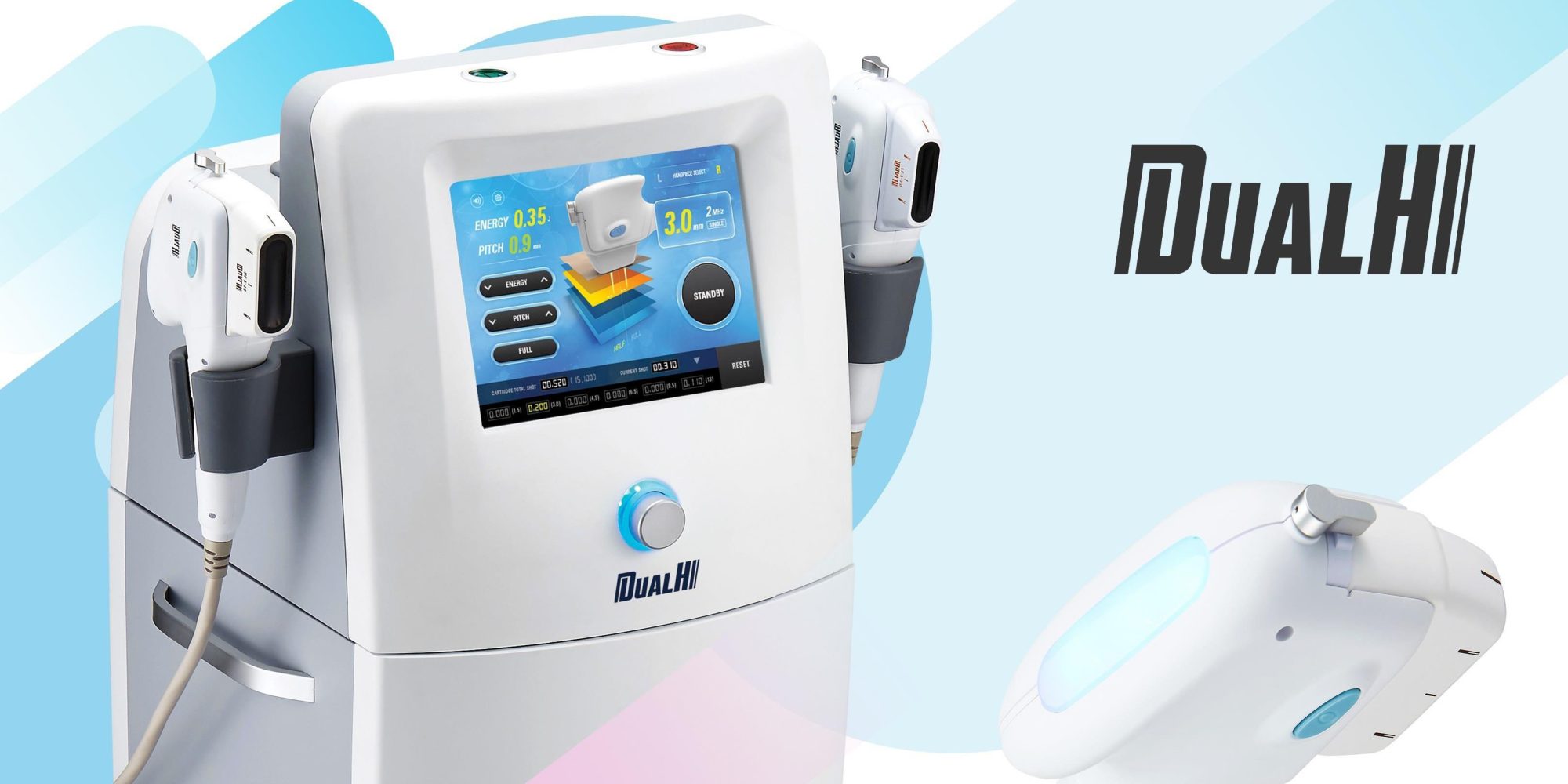 Antiaging and Skin Tightening with Dual-Hi
Minimize the signs of ageing with Dual Hi – An advanced aesthetic technology that significantly tightens and lifts several areas of the face and body
The Dual-Hi is a High Intensity Focused Ultrasound treatment (commonly known as HIFU). Entirely non-invasive, Dual-Hi uses energy waves to target specific areas and can target various depths of the body's tissue for skin tightening, skin lifting, fat cell reduction and body contouring.
You may have heard of HIFU treatments before, however the Dual-Hi has double the technology and therefore is able to deliver faster and better results than any other HIFU treatment currently on the market.  DUAL-HI is an excellent option compared to a surgical facelift as it is quick, very tolerable and has no downtime.
This treatment is the only non-invasive treatment that is able to reach as deep as the SMAS layer of the skin (the superficial musculoaponeurotic system), while still focusing on specific target locations. Targeting the SMAS tissue is required for the most effective and long-term skin tightening. The SMAS layer of the skin is a sheet of tissue that is made up of collagen, elastin fibres, and fat cells – so this treatment enables you to boost new collagen production and collagen regeneration right at the source. The SMAS is the layer a surgeon would typically stretch as part of an invasive surgical face-lifting procedure.
Please find below more information on this treatment, including before and after results.
______
Price: £1800 | Book A Consultation
Treatment areas and benefits
Face:
Full face lift
Reduce wrinkles and fine lines
Stimulate collagen production
Eyebrow lifting
Forehead lines reduction
Eyelid lifting
Nasolabial folds (nose-to-mouth lines)
Cheek lifting
Double chin reduction
Lifting 'sagging' jowls – for a more defined jawline
Body:
Tighten and smooth the neck, décolletage & chest area
Reduce fat, tighten and smooth in the following areas;

Abdomen
Flanks (back/bra fat)
Forearms ("bingo wings") –
Inner and outer thighs
Hips
How does the Dual-Hi treatment actually work?
The Dual Hi uses focused ultrasound energy to target the layers of skin below the surface. The ultrasound energy causes the tissue to heat up rapidly.
Once the cells in the targeted area reach a certain temperature, they experience something called 'cellular damage'. While this may seem counterintuitive, the damage actually stimulates the cells to produce more collagen.
The increase in collagen results in tighter, firmer skin with fewer wrinkles. Since the high-frequency ultrasound beams are focused on a specific tissue site below the skin's surface, there's no damage to the upper layers of the skin and adjacent issue.
Dual-Hi Vs Other HIFU Treatments
Most HI-FU Treatments have one transducer (energy comes out of one point on the applicator), however the Dual-Hi, true to it's name, has dual transducers that work simultaneously, halving the treatment time, providing better results, and reducing pain with less treatment time.
Before and After Photos
Frequently Asked Questions