Tattoo Removal
Say goodbye to unwanted tattoos with our effective laser tattoo removal treatment. Laser tattoo removal is a relatively simple procedure that can produce some astonishing results.
The laser we use here at DrBK (Q-Switched Nd:YAG) can be adjusted to target different inks.
To see how many sessions you would need to completely remove the tattoo, our skin technician will begin by analysing your tattoo during your consultation.
---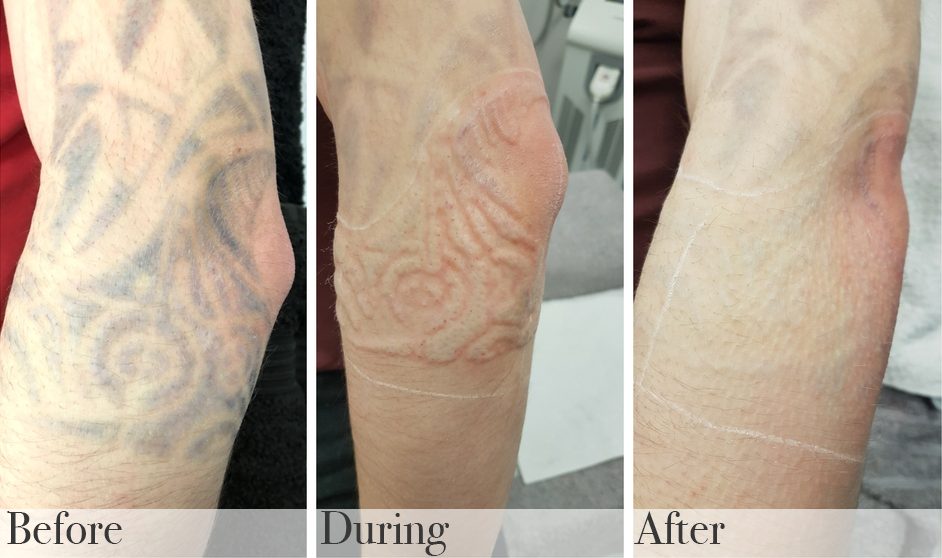 Real DrBK Before & After
---
Factors to take into account:
Black tattoos are the easiest to remove as the pigment within them is easily broken down
Tattoos with red in them are usually more difficult and different wavelengths of light will need to be used
Treatment might be slightly more difficult and require more sessions if the ink in the tattoo has been put into the skin too deeply.
---
What happens during treatment?
During laser tattoo removal, your skin will be cleansed and you'll be given goggles to wear to protect your eyes from the laser. The practitioner will cool the skin with our cooling system to ensure minimum discomfort throughout the treatment. The laser will then be used over the surface of the tattoo.
---
Post-treatment
You will experience a mild pricking sensation during treatment, but we can use local anaesthetic creams to minimise discomfort. Over the counter pain medication will minimise any pain following treatment.
After treatment, patients are advised to take care of the skin, using a high factor SPF whilst the skin is still sensitive as well as a tissue repair cream.
---
How many treatments do I need?
The number of treatments that you need differs, depending on the colour of the tattoo and how large it is.
Generally, you'll need treatments every four to eight weeks. A course of 6-12 treatments is usually enough to erase the tattoo, although you might need fewer/more treatments depending on the colour & depth of the tattoo.
---
How will I feel during treatment?
Apart from a mild pricking sensation, most people do not experience any high level of discomfort during the procedure. To ease discomfort, local anaesthetic cream and/or pain relief such as paracetamol can be taken.
---
Is it the right treatment for me?
Laser tattoo removal may not be suitable if you are a darker skin type; this is due to the potential of the area leaving a 'ghosting' effect. This is where the skin is lighter than the surrounding area. Your practitioner will assess suitability in your consultation.