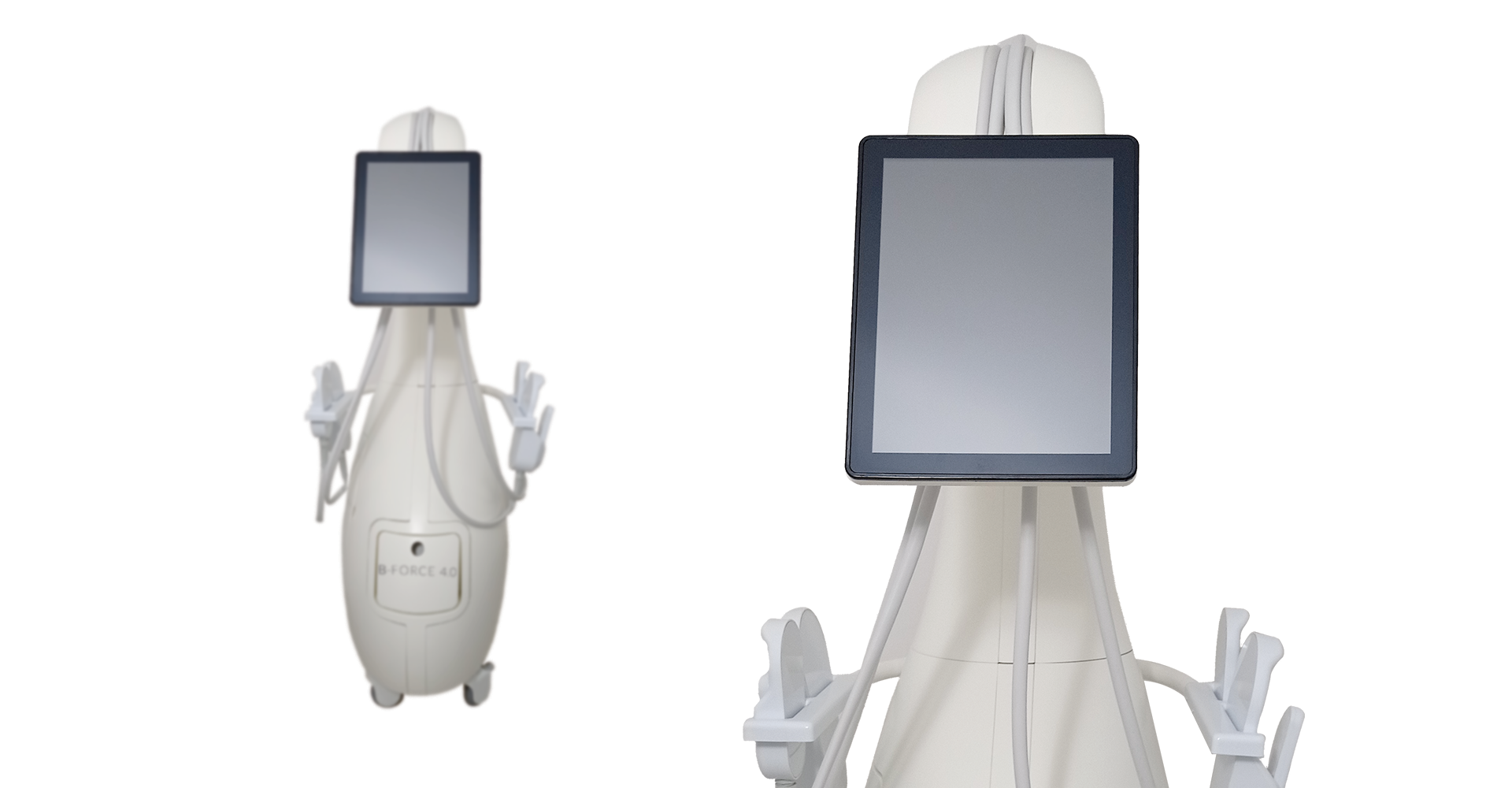 Muscle Toning with B-Force
B-Force – Muscle Toning Body Contouring
B-Force is the ultimate muscle toning treatment and is the latest innovation in body contouring. It is a painless technology designed to strengthen and tone muscles, reshape the body, as well as eliminating excess fat cells, by means of focused electrostimulation.
The B-Force Muscle Toning treatment is capable of 72,000 contractions in a single session (36,000 contractions per head with 2 available heads at one time), making it the most powerful muscle toning device in the world. It is the first muscle-toning technology in the world that allows variable contractions, unlike other similar devices that offer only one type of contraction, such as EmSculpt® or TruSculpt®. This means that we can offer tailored treatment programmes for specific concerns (i.e. those wanting to increase muscle mass, or improve muscle tone).
Toning the body offers multiple benefits from an aesthetic and, above all, physical point of view. Muscle strength training improves quality of life and brings about a state of well-being and general wellness, helps to control anxiety and reduces the risk of chronic diseases. Finding the right motivation or other factors can be a problem for many people, so the B-Force offers the results of going to the gym, without going to the gym.
______
Price: £300 per session or £200 per session when you book 6 sessions or more | Book A Consultation
Benefits of this treatment
Strengthens, firms and tones
Increases mass and muscle tone
Treats muscle hypertrophy
Improves posture (Anterior/Posterior Pelvic Tilt)
Strengthens bones and joints
Stimulates connective tissues
Remodels the silhouette
Improves lymphatic drainage
Combats stubborn imperfections such as cellulite
Improves diastasis recti (abdominal muscle separation) post-pregnancy
Improve abdominal strength in those suffering with pain and/or weakness in the lower back
Before & After Photos
Popular areas of treatment
Abdomen
Bum
Thighs
Hips
Arms
Calves
If you have other areas of concern, please let us know and we can discuss your treatment options.
How does it work?
B-Force is capable of solving various problems, just like an equipment room at the gym where the customer can choose which workout to do according to their needs and requirements.
B-Force works via electrostimulation. Electrostimulation sends direct signals to the muscle fibres, triggering painless contractions. The contractions triggered by electrostimulation stimulates muscular energy which, as it continues to be stimulated, increases the volume of the treated muscle, attacks fat and increases metabolism. The treatment reaches deep into the muscles, even those that are usually difficult to strengthen during traditional training/exercising. This treatment can be done over clothes, so it's completely non-invasive.
Tailored Treatment Programmes
B-Force is the first muscle-toning machine in the world that allows variable contractions, unlike other similar devices that offer only one type of contraction. Thanks to a unique combination of various waveforms, the B-Force enables 5 different types of contraction programmes that target different aspects. During your consultation, we will discuss with you your biggest areas of concern and your goals. Your B-Force treatment will be tailored accordingly with different contraction programmes.
Draining and Micro-circulation:
For targeting fat cells and localised cellulite
The contractions are stepped and this causes a vibratory contraction that acts on the lymphatic vessels, promoting drainage and micro-circulation. This programme is suitable for treating unwanted fat cells (adiposity) and localised cellulite.
Sculpting:
For fat reduction and sculpting
This programme involves deep contractions and decontractions that force the muscle to perform intense work. The programme is suitable for sculpting the body and reducing fat at the same time.
Muscle toning:
For improving poor muscle tone
In this programme, contractions take place more slowly and the muscle remains contracted for a longer period of time and is quickly released. This type of activity increases muscle tone and prepares the ground for future muscle development. This programme is recommended where there is poor muscle tone.
Muscle Hypertrophy:
For increasing muscle mass
Contraction occurs progressively, the muscle remains contracted for a medium length of time and decontraction occurs progressively. This type of activity produces an increase in white muscle fibrils and, consequently, an increase in muscle volume. It is suitable for people who have few muscles and want to develop their mass.
Strength:
For increasing strength and endurance
Contraction and decontraction follow each other with little pause and without any kind of jolt. The muscle is practically subjected to high levels of intensity. Suitable for athletic individuals who have good muscle mass and want to increase strength and endurance.
Circuit 1:  
Alternates all the above programmes listed
Suitable for subjects who have several problems to solve at the same time, circuit indicated mainly for slimming.
Circuit 2:
For those who want a complete 'equipment room' within the institute to improve their muscles as a first objective.
Suitable for athletes or those who love physical activity.
How many sessions will I need?
We recommend a minimum of six sessions, usually a session per week, but this could be up to twelve for optimal results. There is no downtime aside from the treatment areas feeling a little achey, similar to the feeling you get after a workout.
Learn more | Book a consultation